Mississippi State again is being recognized by the Carnegie Foundation for the Advancement of Teaching for excellent integration of community engagement with university teaching and learning strategies. The Carnegie Foundation announced Jan. 31 that MSU is receiving the 2020 Carnegie Community Engagement Classification, an endorsement which is valid until 2026.
An official letter informing MSU President Mark E. Keenum of the university's selection for the prestigious honor said higher education institutions like MSU are "making significant strides in finding ways to engage with community partners, building on community assets, and addressing a wide array of community challenges."
Students, faculty and staff at the 141-year-old land-grant university have an abundance of opportunities to engage and partner in local communities, including Starkville, Oktibbeha County and the Golden Triangle, with some opportunities expanding throughout the state, country and internationally. Outreach is core to the MSU mission of learning, service and research.
The university's Center for Community-Engaged Learning, Office of Student Leadership and Community Engagement, as well as the Maroon Volunteer Center, coordinate campus-community engagement, service-learning and volunteerism efforts. The MSU Extension Service also has a presence in every Mississippi county as it delivers education and research that changes lives.
Keenum said, "Mississippi State has embraced a culture of community engagement with partners at the local level and across the globe. Incorporating these engagement principles into academic learning and co-curricular activities has enabled our students and faculty to make a more meaningful impact in these wide-ranging collaborations.
"We want every MSU student to graduate after gaining excellent academic training in their field of study, but also we want each one to use their college experience as an opportunity to build their character. Community engagement is an important component of both academic achievement and character development," Keenum said.
MSU was last granted the same Carnegie classification for a 10-year period in 2010 and began the self-study for this recent application period in 2018. The Carnegie letter said MSU's application "documented excellent alignment among campus mission, culture, leadership, resources, and practices that support dynamic and noteworthy community engagement."
MSU Vice President for Student Affairs Regina Hyatt said she is proud of the tens of thousands of hours spent by students, faculty and staff through hundreds of programs, services and activities designed to enrich the lives of Mississippians and others.
"Community engagement is part of the fabric at Mississippi State, and this classification acknowledges the importance of our efforts in this area," Hyatt said. "From service-learning courses, to volunteer activities like building a Habitat home or tutoring kids at the Boys and Girls Club, to community-based research which leads to real-world solutions, to services like our Psychology Clinic or T.K. Martin Center which are supporting community needs, Mississippi State is a premier example of a community-engaged institution."
University initiatives listed in the Carnegie application, among others, include:
—Mobile Veterinary Clinics. MSU's College of Veterinary Medicine operates two mobile clinics, fully equipped for spay/neuter procedures, which service 27 Mississippi animal shelters and offer valuable surgical experience for veterinary students.
—Maroon Edition Habitat for Humanity. Since 2009, the Maroon Edition First Year Reading Experience has allowed students to enjoy a common reading selection and participate in community service. Approximately 5,000 students, faculty and staff have volunteered to build 11 ME homes in partnership with Starkville Area Habitat for Humanity.
—Mississippi Delta Alternative Spring Break. This experiential learning course is made possible by MSU's Department of History, Stennis Institute of Government and Office of Student Leadership and Community Engagement. Students examine the intersection and influence of economics, natural resources, race, religion and federal policy in the Mississippi Delta, and the program has produced a total of 21 community development proposals, 35 completed community engagement projects, and 3,500 community engagement hours.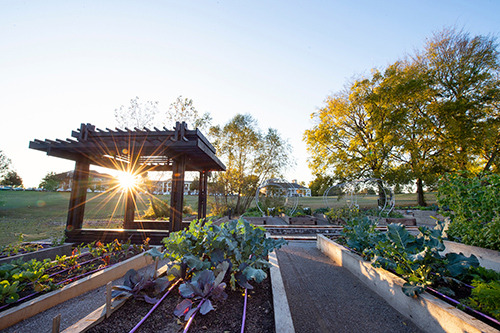 The MSU Community Garden received the 2019 Award of Excellence for Student Collaboration from the American Society of Landscape Architects. Landscape architecture students played a leading role in designing and building the garden project, while students in architecture, graphic design and building construction science also played significant roles. (Photo by Megan Bean)
—MSU Community Garden. The 8,000-square-foot garden, designed and built from 2015 to 2018, is located in the landscape architecture complex off Stone Blvd. and is a research lab, classroom and community center.
—The Idea Shop. This public maker space and retail accelerator in downtown Starkville is part of the MSU Center for Entrepreneurship and Outreach and operated by MSU's College of Business and the School of Human Sciences in the College of Agriculture and Life Sciences.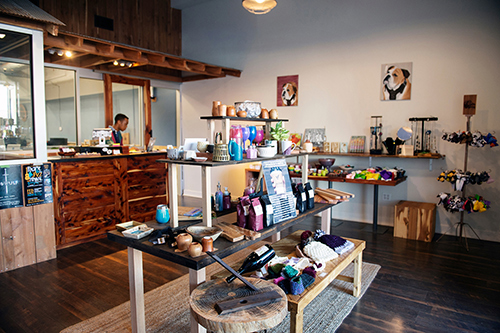 The Idea Shop in downtown Starkville is part of MSU's Center for Entrepreneurship and Outreach and includes the Turner A. Wingo Maker Studio and the MSU Retail Product Accelerator. (Photo by Megan Bean)
Founded by Andrew Carnegie in 1905 and chartered in 1906 by an act of Congress, the Carnegie Foundation for the Advancement of Teaching is an independent policy and research center. For more information on the Carnegie Foundation, visit www.carnegiefoundation.org.
For more on community engagement at Mississippi State, visit www.engaged.msstate.edu.