Students at The University of Southern Mississippi (USM) recently gained a greater understanding about one of the various humanitarian crises facing Europe through the school's Human Rights and Social Justice in Italy study abroad program, which featured interdisciplinary frames of instruction and guidance for participants.
Held in May, the program focused on human rights and social justice issues relating to refugees and asylees in what is considered a priority destination for many migrants; Italy's island of Lampedusa is one of the main ports for those trying to get to Europe, who come from many places to include West Africa, Afghanistan, Syria, and Ukraine, and who flee their native lands for multiple reasons.
Surviving the trip is a daunting task for migrants traversing the Mediterranean Sea to find a new life in Italy, as it is one of the most dangerous routes to take. Earlier this year, Italian political leaders called for a six-month state of emergency because of the increase in the number of migrants crossing the Mediterranean from North Africa.
Students in the program and their faculty coordinators stayed in two Italian cities, Perugia and Pettinengo, which continue to host many migrants. There, they met migrants and hear their stories, as well as to learn from Italian humanitarian workers helping migrants to obtain legal services, housing, job training, advocacy, and other social services. The program also featured excursions to Italy's capital, Rome.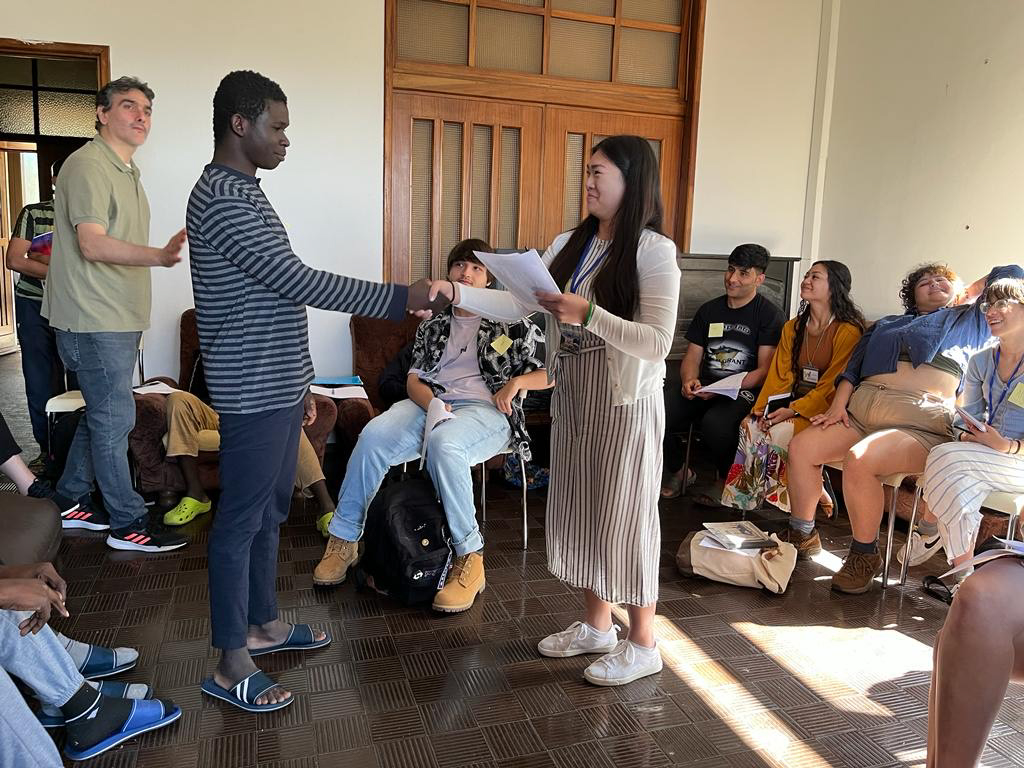 USM faculty members Karen Aderer, a lecturer in its School of Social Work, and Dr. Bob Press, a professor in the university's School of Social Science and Global Studies, served as facilitators for the program.
Aderer described the trip to Italy as "an incredible opportunity to observe how wars, climate change, and political and financial instability are influencing migration, as well as to see how one European country is handling this crisis."
"We worked with some amazing agencies who are helping place migrants in safe housing, feeding them, teaching them Italian, and helping them to find jobs," she continued. "We had many powerful and transformative interactions with migrants during this time, but one that sticks out to me, as a woman and a teacher, was meeting young Afghan girls whose families had fled the Taliban. They are now enrolled in school and Italy, and very proudly talked to us about what they are learning.
"One of their mothers has even received a grant to open her own grocery store in Perugia. Their trajectories would have been so different without this chance for a new life that they found in Italy."
Dr. Press concurred with Aderer, further noting that for students taking part in the program, "they adapted quickly and had good conversations with migrants from Afghanistan, Pakistan, and various African countries, among others."
"Many of these students had also never been out of the country or flown on a plane, so they indeed earned the new title of 'world traveler' with this experience," he said.
Jenna Dittman of Dayton, Ohio, a graduate student in cultural anthropology at USM who traveled to Italy on the program, said a common misconception about the study abroad group was that they were there to help migrants. However, she explained that it was the students who ultimately were the beneficiaries of the experience, learning from and being inspired firsthand by the refugees and asylum seekers through their stories of survival and determination to find a better life for themselves and their families.
"Their courage and eagerness to live without fear not only affected the way I perceive life as to take beauty from each and every moment, but also in the way I extend grace and love to each person's story, no matter what the distance or cultural difference is," Dittman said.